Dátum/Idő
07.17. 21:00
Kategória(k)
Bikram theatre performance/Izzadószínház -Programozott Sejthalál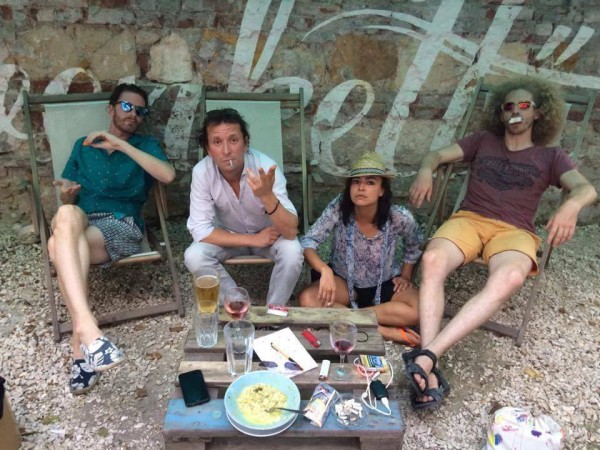 Please scroll down for English version
A Programozott Sejthalál (PSH) bemutatja:
Alacsonyvölgyi Mainstream (AVM)
– izzadószínház –
Hétköznapokba, magánéletbe, színpadi működésbe sok rossz tradíció szűrődik és épül be, ami csak azért van, mert így szoktuk. Az alacsonyvölgyi mainstream egy olyan zenei és előadói közeget hoz létre, ami nélkülözi ezeket a rossz szokásokat, előadói gyakorlatot, szelektál azok közt, amiket mi igaznak, őszintének tartunk. a programozott sejthalál törvényen kívül álló előadói platform, a társulat tagjai kultúrsznobéria-idegen partizán akcióikkal javítanak az "így szoktuk" helyzeten, ami sok esetben figyelem elterelésként "szokott" üzemelni. az előadás fürdőruhában látogatható bikram-színház, hűsítő zenei fröccs a nyár kellős közepén.
Barabás Anita-tánc, ének, fuvola
Philipp György-tánc, ének, billentyű
Kertész Endre-cselló, ének
Mózes Zoltán-dob, tánc, ének
Időpontok:
július 17. (hétfő), 21.00
július 19. (szerda), 21.00
Jegy: 2 000 Ft
Alacsonyvölgyi Mainstream (AVM) –
A bikhram theatre performance by Programozott Sejthalál (PSH)
Many destructive habits and customs integrate themselves into our everyday personal lives and theatre functionality simply because we're used to them.
The "alacsonyvölgyi mainstream" creates a performers medium where we leave these bad practices behind and pick and choose only the ones we believe to be honest and true. "programozott sejthalál" is something like an outlaw performers platform, one where the members of the company improve on the "just because we're used to it" mentality with acts of anti-cultural-snobbery.
the bikram style theatre performances can be visited in a bathing suit and
are uch like a refreshing wine-spritzer in the middle of a stifling summer.
BARABÁS Anita-dance, vocals, flute
PHIIPP György-dance, vocals, keyboards
KERTÉSZ Endre-violoncello, vocals
MÓZES Zoltán-percussions, dance, vocals
17, 19 July, 9 pm
Entrance fee: 2000 HUF